The Narrowest Hotel in Central Europe Finally Under Reconstruction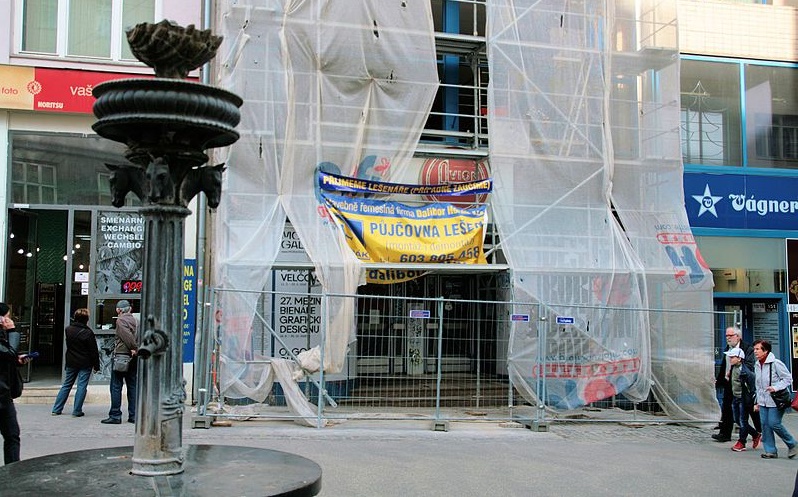 Brno, August 8 (BD) – In last decades, the Avion Hotel with a street front of only 8,5 m experienced only shame, parasites and decay. Once the pride of architecture known as the narrowest hotel in Central Europe located directly on the main pedestrian street had turned into "an awful place to stay". It seems that eventually, it will rise from the ashes. Photo: Martin Strachoň / Wikimedia Commons
The pedestrian street on Česká has been home of this spectacular architecture gem since 1928. The Avion Hotel is one of the functionalist buildings designed by Bohuslav Fuchs who had to deal with extremely narrow and long plot.
In such a limited space, he adopted a unique continuous space principle and had to also tackle lack of light.
Guests' reviews: bugs and smell – horrible place to stay
The hotel lost all its glory. Last reviews from 2008 on Tripadvisor are rather negatively shocking: "This hotel was just horrible…" "Nothing positive to say", "I would not recommend the Hotel Avion to anyone, even if you don't mind sleeping rough!" Neighbors of the hotel were also alarmed by the smell and bugs.
Since then, there have been many news about reconstruction. But then again, they were more or less fake or unfulfilled due to the complex conditions of renovation.
The process of renovation has quite long and unsuccessful history in regard to the hotel. In 2014, its owner Stanislav Berousek claimed for Czech daily iDnes.cz he needed 80 million CZK to reconstruct the hotel; consequently he was not successful with European grands.
The entire process became more complicated after obtaining a cultural monument status.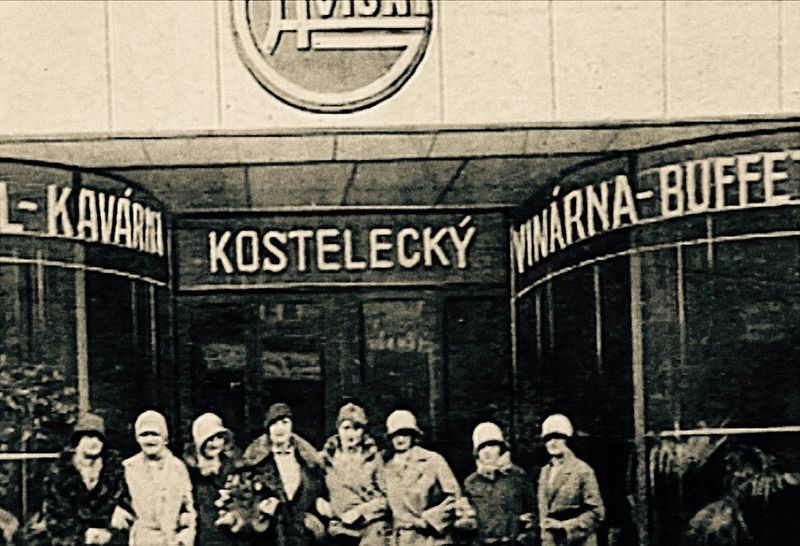 37 Rooms and Terrace With a View on Špilberk
The turnover of unfavorable conditions is just about to happen for Hotel Avion. The steel windows are under reconstruction right now. They are quite a headscratcher since their tremendous weight and complex mechanical system.
The hotel is currently rebuilding 37 unique rooms and a publicly available terrace with a view of Špilberk.
The cultural monument status influences also how will the space of hotel be shaped. "Initially, we wanted to turn the top floor into a suite, but it was declined by a preservation of monuments. Finally, we decided it would be a pity to hide it from the public and therefore we will make it available for citizens," co-owner Stanislav Berousek sums up for iDnes.cz.
https://www.brnodaily.com/2017/08/08/breaking-news/the-narrowest-hotel-in-central-europe-finally-under-reconstruction/
https://www.brnodaily.com/wp-content/uploads/2017/08/avion-hotel-in-brno-under-recontruction.jpg
https://www.brnodaily.com/wp-content/uploads/2017/08/avion-hotel-in-brno-under-recontruction-150x93.jpg
Art & Culture
News - Archived
Accommodation,Breaking News,Brno,Brno Urban Guide,Culture,Urban Plans
Brno, August 8 (BD) - In last decades, the Avion Hotel with a street front of only 8,5 m experienced only shame, parasites and decay. Once the pride of architecture known as the narrowest hotel in Central Europe located directly on the main pedestrian street had turned into "an...
Zuzana Pápayová
Zuzana
Pápayová
zuzanazetqapapayova@gmail.com
Editor
Slovak expat in Brno; a philosopher by night and rebel by fate who is too eager to understand it all, yet too understanding to loot the mysterious magic of the world.
Brno Daily