Brno Sports Weekly Report – Host Czechs Dominate Opening Games of the U23 Baseball European Championships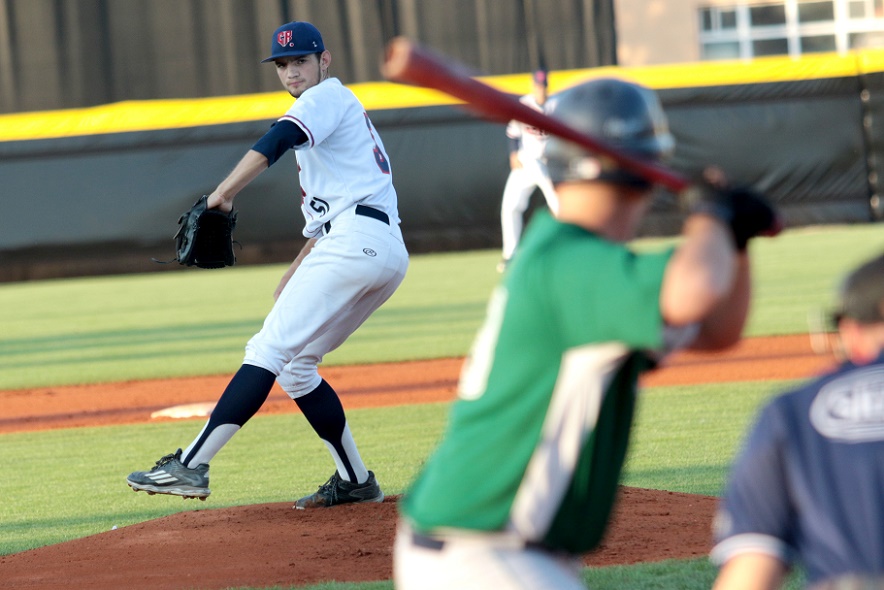 Brno, August 9 (BD) – Another tough week for Zbrojovka, the local football alternative, Marquez wins the MotoGP, and the overall Brno sports schedule. Photo: Jan Beneš
Two trends describe the dominance that the Czech Republic has exhibited during the U23 European Baseball Championships:
One, offensively, the Czech Republic scored runs in their first 10 innings, all six against Lithuania in the first game (before a mercy rule was invoked) and the first four against Ukraine in the second game (before another mercy rule was invoked). And, two, defensively, Czech pitchers threw 10 consecutive shutout innings until giving up a single run in the fifth inning against Ukraine.
More dominance like this could lead to a clean sweep of Group D tonight against Belgium, and perhaps the European baseball championship on Sunday.
The U23 European Championships started Monday with 16 teams in four groups and there are expat groups in Brno connected to most of the countries represented in the tournament. When the championship game is played in Brno on Sunday, there will have been 48 games in seven days on six fields in Austria, Slovakia, and the Czech Republic. The playoffs begin on Friday. The semi-finals will be played on Saturday and the finals are Sunday, all at Městský Baseballový Stadion (Sokolova 2, Brno-jih).
Click for the tournament website (in English). For rosters, composite box scores, play-by-play, line scores, and video, go to baseballstats.eu (in English). playo.tv will broadcast most of the games, including all of the Czech games, live.
The Czechs finish play in Group D against Belgium tonight at MBS at 7 p.m.
So far, Group D has been a cakewalk. The Czech Republic opened tournament play on Monday with a commanding 15-0 victory over Lithuania. Czech right-handed pitcher Jiri Vavrusa set the tone with a dominating performance. He retired the Lithuanians in order before giving up an inconsequential double to the ninth-place hitter. Vavrusa, who regularly reached 130 kmh with his fastball, walked two in the fourth inning but a nifty double play got him out of the fourth inning without any damage. Filip Capka and Lukas Ercoli pitched an inning apiece to collectively hold Lithuania to only one hit.
Offensively, seven players registered hits. Catcher Michael Vykoukal and shortstop Filip Smola both had three. Designated hitter Martin Muzik went 2-for-4 with three runs batted in, including a fifth-inning home run over the left-field fence.
On Tuesday night, the Czechs beat Ukraine, 12-1. Like the opening-night game, they dominated both offensively and defensively from the beginning, although many of their runs were helped by Ukrainian defensive miscues. Left-handed pitcher Jan Novak showed that he will be a force for future games with his three-inning, four-hit and four-strikeout performance. Martin Bares gave up the only Ukrainian run but he got the win after 3 1/3 innings of work; he walked two and struck out three. Muzik continued his hot streak, going 4-for-4. Marek Chlup hit a two-out, two-run home run in the second inning.
Football
—
Zlin 2, Zbrojovka 1
Zbrojovka took advantage of a red-card penalty early in the second half to take the lead, but Zlin was undeterred by playing a man down, scored two goals, and won 2-1 at home.
Zbrojovka has lost their first two HET League games. They host Bohemians 1905 at Srbska on Saturday at 4 p.m.
In Zlin, Zbrojovka looked determined in the first half and seemed to have a functioning offense, particularly with the proactive play of first-year Zbrojovka player Alvin Fortes. Dušan Melichárek also made several excellent saves.
After the break, Brno striker Francis Koné was mugged at the top of the box in the 50th minute. Zlin captain Tomáš Janíček was given a red-card and Tomas Pilik scored the pentalty kick off, albeit after bouncing his shot off the right post and then off the back of the Zlin goalkeeper.
Zlin, which won the MOL Cup last year for a berth in the European Cup, tied the game 17 minutes later after a corner kick resulted in a second entry pass that crossed up Brno captain Petr Pavlík and goalkeeper Melichárek. The goal was officially an own goal "credited" to Pavlík. Three minutes later, Zlin scored again on a corner kick.
Brno could not mount a successful offensive attack against 10 Zlin players during the final minutes and they have zero league points.
According to a translation of post-game comments, Zbrojovka head coach Svatopluk Habanec was happy with the initial output of the team, but concerned about how the team went so flat, even while playing against a 10-player Zlin team: "I'm not happy. I did not see the impulse in the team that we wanted to retaliate. We have not developed any opportunity to settle. "
Click here to see a video recap of the game.
Last night, Zbrojovka started and ended in the MOL Cup competition, losing 1-2 at 1. HFK Olomouc. Zbrojovka was an overwhelming favorite against the third-league team. This loss will, no doubt, lead to a lot of soul searching within the team. Significant changes may be in the offing.
Local Leagues Provide Football Alternative
Zbrojovka is not the only game in town. There are many smaller local teams who provide exciting football in a more accessible environment (read: with shorter lines for beer).
Líšeň is a top team in the Fortuna MSFL and serves as a feeder for Zbrojovka. They beat Hulín, 4-2, on Saturday in front of 152 fans. Their first home game of the league season is this Saturday against Uherský Brod at their field on Kučerova Street at 5 p.m.
Click here for the full Fortuna MSFL schedule.
Líšeň also participates in the MOL Cup. They play at TJ Valašské Meziříčí at 5 p.m. today.
The Regional Championship (Krajský přebor in Czech) begins this Saturday. There are five Brno teams who compete and two of them will face each other on opening day of the season: TJ Tatran Bohunice hosts FC Sparta Brno at their field on Neužilova Street at 4:30 p.m.
FC Svratka Brno, SK Moravská Slavia-fotbal, and FC Dosta Bystrc – Kníničky are also in the league.
Click here for the full schedule.
Motor Sports
—
Marquez Takes CzechGP in front of 87,000
Marc Marquez won the Monster Energy Grand Prix on Sunday at the Masarykův Okruh (Masaryk circuit, Automotodrom Brno) in front of more than 87,000 fans.
Repsol Honda teammate Dani Pedrosa was second, and Maverick Viñales (Movistar Yamaha MotoGP) completed a Spanish podium.
Marquez averaged 161.1 kmh and won by more than 44 seconds, largely because of his early tire change to adjust to the wet track conditions.
Defending champion Cal Crutchlow had a tough race. Bruised and battered (but without any broken bones) after a fall in qualifying on Saturday sent him to the hospital, Crutchlow settled for fifth place after he was passed in the final lap by fourth-place Valentino Rossi.
Brno Sports Schedule
• Today
— Hockey: "Martin Havlát and Mistři Dětem" charity game, featuring Jaromir Jagr, Patrik Elias, Zdeno Chara, and Marián Hossa, DRFG Arena, 6:30 p.m., Sold Out.
— Baseball: The U23 European Baseball Championships, Group D, Czech Republic versus Belgium, Městský Baseballový Stadion (Sokolova 2, Brno-jih), 7 p.m.
• Thursday, Aug. 10
— Baseball: The U23 European Baseball Championships
• Friday, Aug. 11
— Baseball: The U23 European Baseball Championships
• Saturday, Aug. 12
— Baseball: The U23 European Baseball Championships
— Football: Zbrojovka versus Bohemians 1905, Srbska, 4 p.m.
• Sunday, Aug. 13
— Baseball: The U23 European Baseball Championships
• Sunday, Aug. 20
— Football: Zbrojovka at Olomouc, 5 p.m.
The Brno Sports Report is published every Wednesday. All dates and times are subject to change. Most of the stories are about the traditional "English-speaking" team sports — football, hockey, baseball, basketball, American football, rugby, etc. — but it is also about the interesting local spectator and participation sports — tennis, badminton, running, horse racing, swimming, rock climbing, biking, etc. If you have any suggestions for what should be included, please comment below or send an email to brnosports@gmail.com.
https://www.brnodaily.com/2017/08/09/breaking-news/brno-sports-weekly-report-host-czechs-dominate-opening-games-of-the-u23-baseball-european-championships/
https://www.brnodaily.com/wp-content/uploads/2017/08/BEN_0416.jpg
https://www.brnodaily.com/wp-content/uploads/2017/08/BEN_0416-150x100.jpg
News - Archived
Sport
Breaking News,Brno,Czech Republic,Sport
Brno, August 9 (BD) - Another tough week for Zbrojovka, the local football alternative, Marquez wins the MotoGP, and the overall Brno sports schedule. Photo: Jan Beneš Two trends describe the dominance that the Czech Republic has exhibited during the U23 European Baseball Championships: One, offensively, the Czech Republic scored runs in...
Bruno Zalubil
Bruno
Zalubil
bzalubil@hotmail.com
Author
A connoisseur of the unpredictable and unscripted drama of sports.
Brno Daily