Women's Hoops Tip Off This Weekend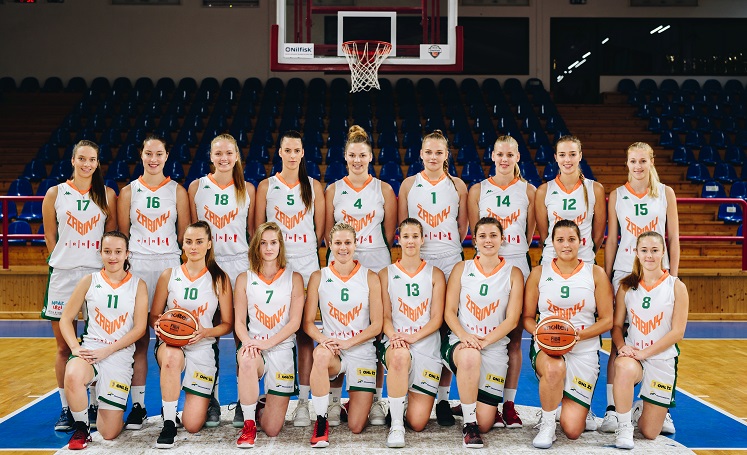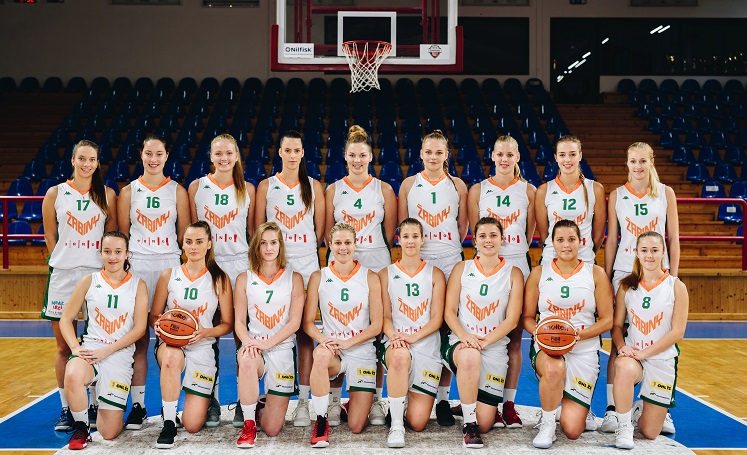 Three teams to represent Brno in the 2017-18 Women's Basketball League. Photo: Žabiny Brno
Brno, Sep 21 (BD) – The machinations of women's basketball in Brno are difficult to figure out and hard to follow. Players move from team to team. Sponsors move from division to division, then disappear. Entire coaching staffs move. Teams change from city to town and back again to the city. Simply trying to follow the names of the teams is a challenge.
Fortunately, the drama on the basketball court is much easier to follow. And, even better, the on-court action starts this Saturday.
Brno has three teams in the ŽBL, the top women's basketball league. KP Brno finished third last year to earn a berth in the Women's EuroCup. Basket Žabiny Brno finished sixth, but won the Czech Cup. Technic Brno was 11th.
Basket Žabiny Brno has the first home game of the three. They host BLK Slavia Praha at Sportovní hala Rosnička on Saturday at 4:30 p.m. Click here for a map.
Click here for the complete women's basketball top-league schedule.
Basket Žabiny Brno
When Basket Žabiny Brno open the season on Saturday, they will feature a young team that will not have any standout players.
"We are a team without stars," assistant coach Jakub Gazda said. "I would separate the team as more experienced ones and younger ones. We don't really have a star player that would score 20 or 30 points. We are pretty much relying on team basketball."
Head coach Viktor Pruša and Gazda start their second season with the organization. Longtime coach Jan Bobrovský, who led the team to many years of domestic and international glory, is still an assistant coach.
Croatian Tea Buzov is the only international player on the team. She will distribute the ball as the point guard. Jana Hausknechtová will also play at the guard position.
Pavla Švrdlíková and Beáta Adamcová are power forwards who came from crosstown rival KP Brno last year. Natálie Stoupalová is a young player to keep an eye on.
Barbora Tomancová and Tereza Vitulová are both 18 years old and 188-cm tall. They have played mostly at the junior level; this year they will share the space below the basket.
Circle the games against KP Brno – Dec. 2 in Žabovřesky and the final game of the regular season on St. Patrick's Day, March 17, in Kralove Pole.
"We have a good sports rivalry," Gazda said. "The games last year that we played against each other were great to watch. We met in the finals of the Czech Cup. The gym was totally packed. TV was here. It was a great event and a great game. We managed to win that one. Then we met them in the first round of the playoffs and they eliminated us."
The games against Technic Brno will be significant as well. Pruša and Gazda coached the team in a lower division.
The overall Žabiny organization has a long and successful history. Founded in 1993 by longtime coach Bobrovský and manager Jiří Hamza, the club won 13 consecutive league titles from 1996 to 2008, and added another in 2010. The team won 256 games in a row at home during a nine-year run from February 7, 1998 to February 10, 2007. In addition, the club has won the Czech Cup 16 times, 1996 – 2009, 2013, and earlier this year. Their domestic dominance led to success in the FIBA EuroLeague Women's Tournament: in 2006, the Žabiny won; they finished second in 2005 and 2009, and third 2001 and 2004.
The team that has replaced Žabiny at the top of the women's league is USK Prague: "They are the team to beat," Gazda said. "They are pretty much dominating the league now."
Technic Brno
Technic Brno is a team is built around team-play, scrappiness and hard-edged defense. They are in the top league for the second year. And their distinguishing sartorial flair: pink uniforms.
There are no basketball professionals on the Technic Brno roster; instead there are real-life professionals: the team lawyer, a real estate agent, a physiotherapist, a teacher and a fitness coach.
"Our goal is to let young Czech players gain experience," said power forward Aneta Půlpánová. "We want to play good basketball and have a good feeling about our game."
There are no big stars, but Tereza Zítková and Hana Gašicová are players to keep an eye on.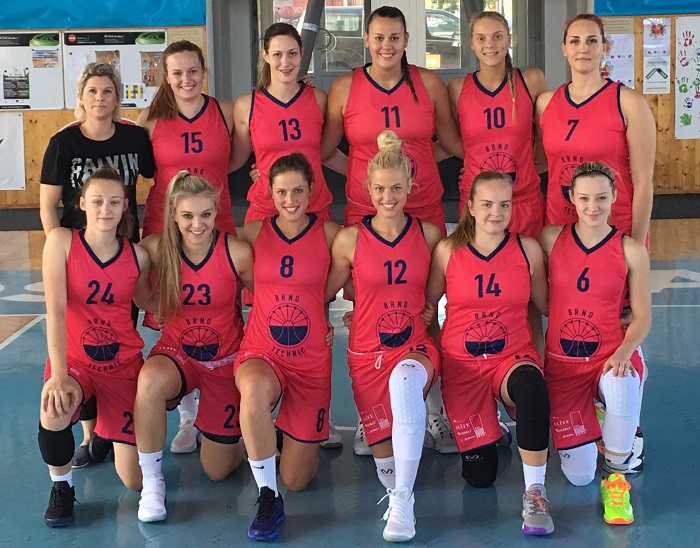 Technic head coach Lucie Zítková is a patient coach who emphasizes team play and strives to get the best out of young players.
Technic Brno was 11th in the 12-team league last year, but they finished with a flurry, winning five of their final six games.
Games against both crosstown rivals will always be special, especially against Žabiny and its coaching staff.
Technic Brno starts on the road against U19 Chance on Sunday. They return to Brno to play SBS Ostrava on Wednesday at 7 p.m.
KP Brno
KP Brno has some name players on its roster:
Ilona Burgrová played on the Czech national team.
Edita Šujanová just returned from professional play in Turkey.
Veronika Remenárová is a player from the Slovak national team.
Also keep an eye out for Gabriela Andělová, Milena Prokešová and Monika Verlíková.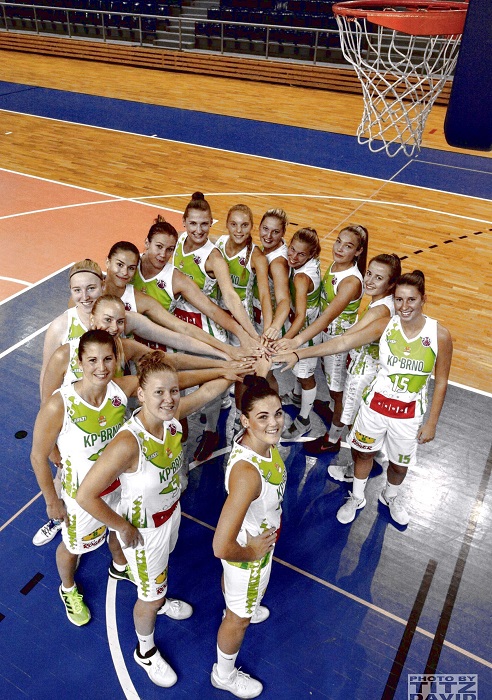 The season starts uphill for KP Brno. Their first three games are on the road, and the first one is at USK Prague on Saturday at 5 p.m. USK Prague, where Burgrová played last year, is the consensus favorite to repeat as league champions. Then, KP Brno plays at Slavia Praha on Sept. 27 and at Karlovy Vary on Oct. 1.
They finally return home to play Slovanka MB on Oct. 4 at 5:30 p.m.
Domestically, KP Brno hopes to fight for a medal, likely against Nymburk, Hradec Králové and Slavia Prague.
Internationally, KP Brno will have a lot of travel. Their third-place finish last year earned a spot in the Women's EuroCup. They are in a group with teams from Venice (Italy), Wasserburg (Germany) and Fribourg (Switzerland).
https://www.brnodaily.com/2017/09/21/breaking-news/womens-hoops-tip-off-this-weekend/
https://www.brnodaily.com/wp-content/uploads/2017/09/Basket-Žabiny-Brno.jpeg
https://www.brnodaily.com/wp-content/uploads/2017/09/Basket-Žabiny-Brno-150x91.jpeg
News - Archived
Sport
Breaking News,Brno,Sport,Things To Do in Brno
Three teams to represent Brno in the 2017-18 Women's Basketball League. Photo: Žabiny Brno Brno, Sep 21 (BD) - The machinations of women's basketball in Brno are difficult to figure out and hard to follow. Players move from team to team. Sponsors move from division to division, then disappear. Entire...
Bruno Zalubil
Bruno
Zalubil
bzalubil@hotmail.com
Author
A connoisseur of the unpredictable and unscripted drama of sports.
Brno Daily