7 out of 10 happy with Brno public transport, 2 out of 10 happy with parking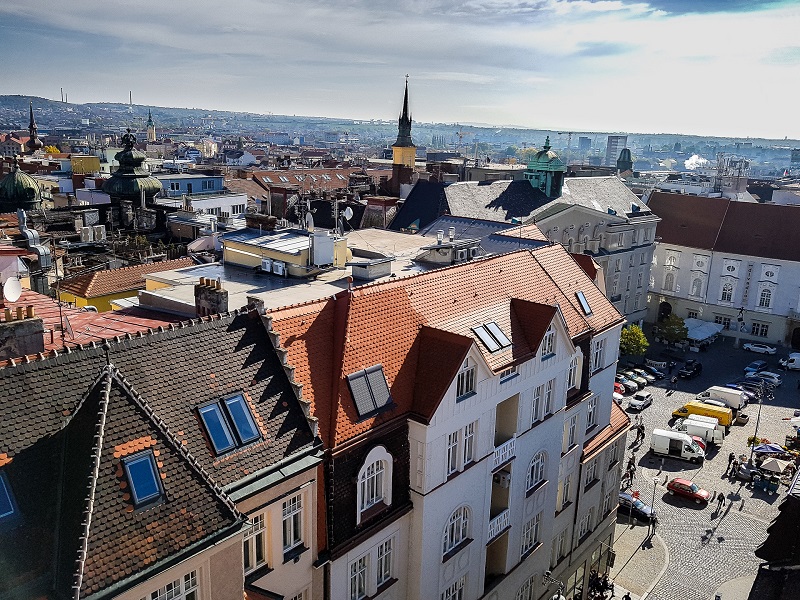 In 2017, Brno's population grew by 6,255 people compared to the previous year. The number of short-term apartments available via AirBnB is rising sharply. In 2017 there were 1,066 such apartments. People appreciate Brno public transport, but many complain about parking. Two thirds of Brno citizens are happy with their jobs. These are just some of the findings of the recently published report on the quality of life in Brno. Photo credit: Casadei Graphics
Brno Apr 25 (BD) – The City of Brno has published 'The City State Report 2018', a report that lists facts about the city related to factors important for the long-term development of the city.
The report was presented on April 23 at the annual meeting of the 'Brno Municipal Ecosystem' and published on the city data portal Data.brno.cz.
In the report, basic statistical indicators of the city are described with infographics. "I am glad that the citizens liked last year's report on the state of the city and found it interesting. The data and facts about the city were presented in a simple and comprehensible graphic form, which the readers appreciated," explained Deputy Mayor Jaroslav Kacer in the official press release.
The gross domestic product (GDP) per inhabitant of Brno is above both the Czech national GDP per capita and that of the EU. Latest data: 2016. Source: Data.brno.cz
Compared to the previous year, this year's report was divided into more categories, in accordance with the goals of the #brno2050 strategy. For instance, the category of 'quality of life' was split into three parts, while three new categories were added: Prosperity (economic data, labor market), Services (health, culture, crime) and Environment (environment, quality of life).
The sources used for the report were traditional ones, such as the Czech Statistical Office, Ministry of Labour and Social Affairs, and 'non-traditional' sources such as mobile operators, Airbnb, and Sreality.
Some data and information featured in the report
Population
The number of citizens is steadily growing. Brno was home to 379,527 people in 2017 compared to 373,272 the previous year. In 2017, it included 183,300 men and 196,227 women.
Last year, Brno had its largest number of births in the past 30 years – 4,634.
The price of housing is rising. The average price for renting a flat rose by almost 2,000 CZK compared to 2016, making it CZK 12,818 in 2017.
In Brno there are 28,000 foreigners with residence permits. Most of them come from Ukraine (6,838) and Slovakia (6,066).
The number of university students in Brno is decreasing (now about 65,000 students).
Number of University students in Brno, 2010/2011 – 2016/2017. Source: Data.brno.cz
Employement
More than two thirds of the city's population are satisfied with their employment.
Salaries in Brno last year rose sharply. Last year, the average wage in Brno grew by CZK 2,714. Source: Data.brno.cz
Life in the city
Since 2013, the number of crimes is on the decline – 10,391 crimes were reported.
Firefighters' response speed increases every year. The average response time is now less than 7 minutes.
Transport
Seven out of ten people are satisfied with public transport.
Only 18% of Brno residents are satisfied with parking.
You can find more data on the website Data.brno.cz. Download the PDF file with the infographics here.
Get the news first! Subscribe to our daily newsletter here. Top stories of the day in your mailbox every morning.
https://www.brnodaily.com/2018/04/25/breaking-news/7-out-of-10-happy-with-brno-public-transport-2-out-of-10-happy-with-parking/
https://www.brnodaily.com/wp-content/uploads/2018/04/brno-casadei.jpg
https://www.brnodaily.com/wp-content/uploads/2018/04/brno-casadei-150x113.jpg
News - Archived
Brno,Brno Urban Guide,Business,Culture,Czech Republic,Employment,Transport,Travel Tips
In 2017, Brno's population grew by 6,255 people compared to the previous year. The number of short-term apartments available via AirBnB is rising sharply. In 2017 there were 1,066 such apartments. People appreciate Brno public transport, but many complain about parking. Two thirds of Brno citizens are happy with...
Valentina Botica
Valentina
Botica
valentina.botica1801@gmail.com
Author
Hello Brno, I'm Valentina from the windy side of Croatia, a journalist, belly dancer, and a fighter against patriarchy.
Brno Daily