'FabLab' for Brno's DIYers, students and entrepreneurs celebrates 1st year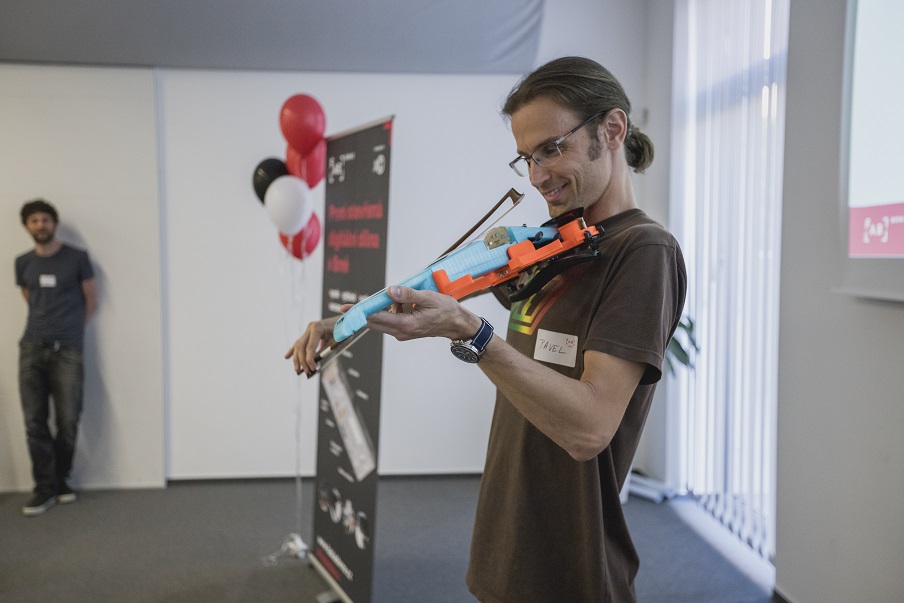 An electric violin as a gift for a wife, a 'Stargate' model, table football with Star Wars-themed players, and intricate prototypes for start-ups – these are just a few of the many interesting projects developed at Brno's FabLab. Photo: JIC
Brno, Apr 28 (BD) – Brno's first digital lab for the public, FabLab, is celebrating one year of operation and a large number of interesting products that have originated from its premises at the South Moravian Innovation Center (JIC) on Purkyňova street (map).
'FabLab' is an abbreviation for "Fabrication Laboratory", or a design lab, and refers to a place equipped with computer-controlled machines that are capable of producing a wide range of products.
Over the past year, over 1,300 visitors have tested out the available devices. Hundreds of users regularly visit the production lab and dozens of South Moravian schools have participated in guided excursions.
One of the most popular devices among the visitors are a laser cutter and eleven 3D printers.
FabLab Brno is part of a worldwide movement whose members – so-called 'makers' – create tailor-made and custom-made products and processes and share them with others in order to improve them.
Lab on wheels
Because of its growing popularity, the South Moravian Region has recently decided to sponsor the construction of a mobile FabLab. "The truck with a semi-trailer of about 47 square metres and equipped with a variety of electronic devices will drive across South Moravia and stop for a few days in front of schools. It is expected that its equipment will be tested out by about ten thousand students," explained JIC FabLab manager Tomáš Mejzlík in the official press release. The mobile lab should start operating next year.
The official 'FabLab' label can be adopted by laboratories meeting three requirements:
– they have certain equipment (3D printers, laser cutter, CNC milling machine, drill, grinder and other hand tools)
– they share their know-how with the global community
– they make the laboratory available to the general public.
Get the news first! Subscribe to our daily newsletter here. Top stories of the day in your mailbox every morning.
https://www.brnodaily.com/2018/04/28/breaking-news/fablab-for-brnos-diyers-students-and-entrepreneurs-celebrates-1st-year/
https://www.brnodaily.com/wp-content/uploads/2018/04/IMG_3658.jpg
https://www.brnodaily.com/wp-content/uploads/2018/04/IMG_3658-150x100.jpg
Business
News - Archived
Brno,Education,Music,Technology
An electric violin as a gift for a wife, a 'Stargate' model, table football with Star Wars-themed players, and intricate prototypes for start-ups - these are just a few of the many interesting projects developed at Brno's FabLab. Photo: JIC Brno, Apr 28 (BD) - Brno's first digital lab for the...
BD Staff
BD Staff
team@brnodaily.cz
Administrator
Brno Daily - English News and Events in Brno.
Brno Daily