Chuck Norris calls on people to protest against current government in spoof video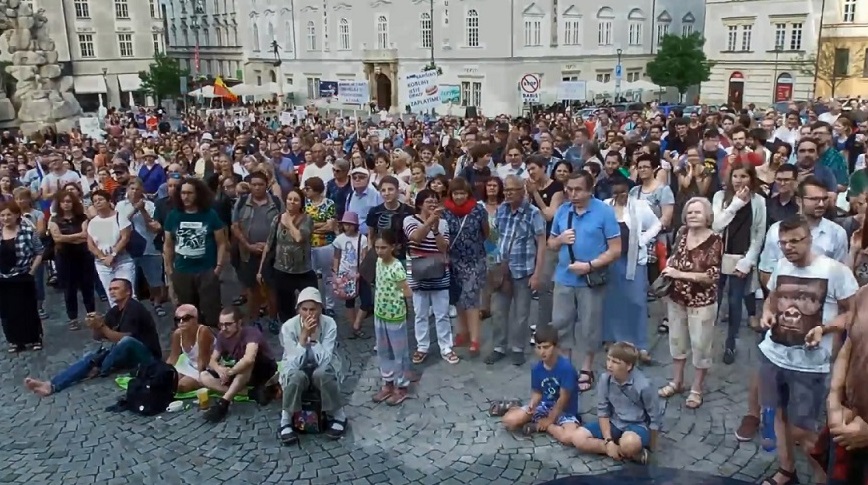 Chuck Norris is watching television. Andrej Babiš, Tomio Okamura and Miloš Zeman appear on the screen. The American action movie legend can't stand it anymore and breaks the television. The latest release by Brno videographer Michal Orsava has quickly gone viral with over 100,000 views shortly after its release. Photo: Live stream, Zelný trh, 5/6/2018
Brno, Jun 6 (BD) – Orsava's new entertaining video invited people to gather on Tuesday to express their dissatisfaction with the current political situation, in apparent support for the "Million Moments for Democracy" movement.
The video may have had an effect in mobilising people, as one of Brno's most popular squares, Zelný trh, was filled with people listening to concerts and political statements given yesterday by personalities from the local political and cultural spheres.
The gathering was inspired by the nationwide protests organised by the "Million Moments for Democracy" initiative, which is collecting signatures for a petition demanding the resignation of Andrei Babiš from the office of prime minister. At the end of May, the petition had about 250,000 signatures.
In Brno, people met at Zelný trh. According to the Facebook event page, over 1,000 people said they were going and over 4,000 were interested in the event in Brno. According to the official description of the event, protesters were demanding a "prime minister who is not being investigated by police, that the political parties ANO and the Social Democrats (ČSSD) refrain from forming a government with the support of the Communist Party, and that the president name a decent prime minister."
In Prague, nearly 10,000 protesters were expected, with over 23,000 interested in the event, according to the Facebook event page.
Yesterday's events were a loose continuation of the nationwide 'NO to Babiš in another Abuse of Power' protests in April (read more here). The April protest at Liberty Square in Brno focused on the integrity of Prime Minister Andrej Babiš himself and the limits of what his caretaker government should be permitted to do, according to Sara Dvořáková, one of the protest's organisers.
"The message we are trying to get out with these protests is that people should watch what is going on," Dvořáková explained in an interview with Brno Daily. For the April protest, around 4,000 people gathered, according to the organizers.
Get the news first! Subscribe to our daily newsletter here. Top stories of the day in your mailbox every morning.
https://www.brnodaily.com/2018/06/06/breaking-news/chuck-norris-calls-on-people-to-protest-against-current-government-in-spoof-video/
https://www.brnodaily.com/wp-content/uploads/2018/06/protest-zelny-trh.jpg
https://www.brnodaily.com/wp-content/uploads/2018/06/protest-zelny-trh-150x84.jpg
Art & Culture
News - Archived
Politics
Brno,Culture,News,Politics
Chuck Norris is watching television. Andrej Babiš, Tomio Okamura and Miloš Zeman appear on the screen. The American action movie legend can't stand it anymore and breaks the television. The latest release by Brno videographer Michal Orsava has quickly gone viral with over 100,000 views shortly after its release....
BD Staff
BD Staff
team@brnodaily.cz
Administrator
Brno Daily - English News and Events in Brno.
Brno Daily