Video: Music festivals in the Czech Republic, Summer 2018 (What's Up Brno)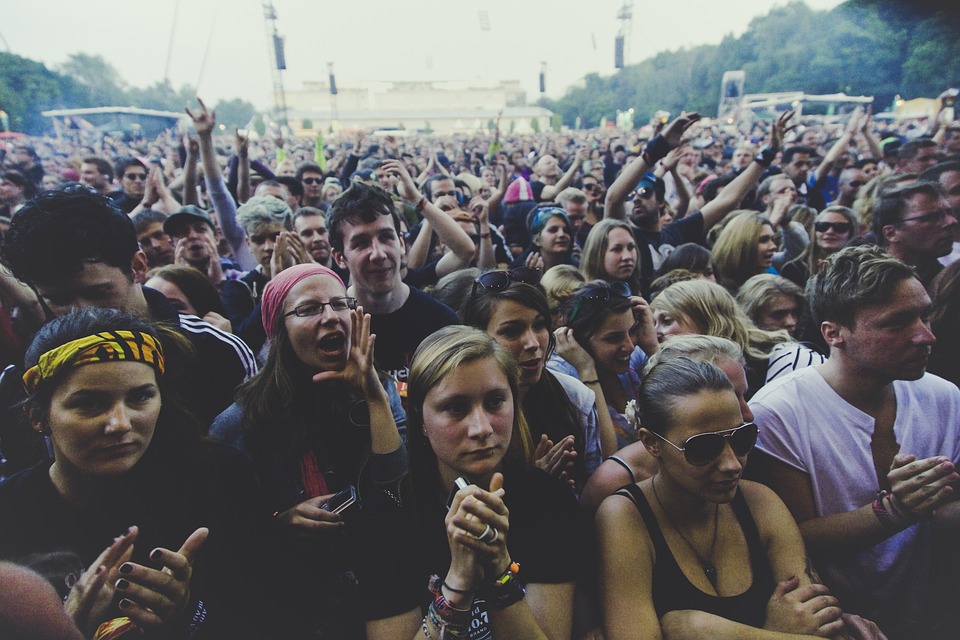 Euphoric festival goers describe them as Disneyworld for adults. Only instead of ice cream, there is beer, instead of the cave of wonders, there are loads of stages with your favourite music, and instead of Mickey & Minnie, there are bands like Sepultura, Helloween, and N.E.R.D. Photo credit: markusspiske// Pixabay
The right music and atmosphere at a music festival can light a fire inside anyone attending. In a special summer edition of What's Up Brno, we present the biggest and most internationally-oriented music festivals in the Czech Republic in July and August.
#1 Rock For People Festival, Hradec Králové, July 4 – July 6 – one of the most famous festivals in the Czech Republic, with a line-up of mostly heavy metal, punk, and rock, and some of the biggest acts in the world, which offers, according to its organizers, "the perfect blend of energy and inclusivity, making it a great place for families, groups and fans of all ages." In its 24th year, the line-up this year includes The Kooks, The Prodigy, Skillet, Enter Shikari, Rodriguez, Donnie Darko, and many others.
Official Page: https://www.rockforpeople.cz/en/
#2 Boskovice 2018 (Festival for the Jewish Quarter), Boskovice, July 5 – July 8 – a multi-genre festival featuring cultural events including music performances, exhibitions, theater, films, literature and more for four days. Main attractions this year include the experimental sounds of American hip-hop group Dälek and a performance from local music producer Jan P. Muchow. Boskovice is a picturesque town located some 33 km from Brno, known for its chateau, gothic castle, and… summer festivals!
Official Page: http://boskovice-festival.cz/en
#3 Masters of Rock, Vizovice, July 12 – July 15 – an open-air rock festival which is all set for its 16th edition in Vizovice, in the area of the Rudolf Jelínek distillery. The main musical styles featured at this festival are power, speed and heavy metal. The festival line-up includes such big names as Helloween, Gene Simmons, Doro, Arch Enemy, and many more. The main stage of Masters of Rock is named after Ronnie James Dio, who died in 2010.
Official Page: https://www.mastersofrock.cz/en/
#4 Bohemia JazzFest, Brno, July 16 – July 17, is one of the largest summer music festivals in Europe, attended by nearly 100,000 jazz fans. The festival visits cities including Prague, Pilsen, Liberec, Domažlice, Tábor and Brno. The Bohemia Jazzfest lands in Brno on the 16th and 17th of July.
Official Page: http://www.bohemiajazzfest.cz/en/
#5 Colours of Ostrava, Ostrava, July 18 – July 21 – an international, award-winning multi-genre music festival. In 2016, Colors of Ostrava was ranked as one of the 10 best festivals in Europe by The Guardian. Concerts, theatre, films, workshops, and discussions await festival goers, all set in very stylish surroundings – "Colours" takes place in Dolní Vítkovice, previously a mining complex and factories for metallurgy and ironworks. The festival will feature performances from Kygo, Jessie J, N.E.R.D., Joss Stone, George Ezra, and Cigarettes After Sex.
Official Page: https://www.colours.cz/
#6 Let It Roll 2018, Milovice, August 2 – August 5 – one of the biggest drum & bass festivals in the world, with more than 20,000 visitors watching some 300 performances on nine stages. The unique and original stage design changes every year. The festival has won many prestigious awards, such as "BEST FESTIVAL" at the Drum&BassArena Awards and "BEST OVERSEAS PROMOTER / EVENT" at the National Drum & Bass Awards.
Official Page: https://www.letitroll.eu/news/
#7 Brutal Assault, Jaroměř, August 8 – August 11 – an open-air metal festival which will take place at Josefov Fortress in the town of Jaroměř. The festival was first held in 1996 and focused on grindcore. Today, the legendary annual festival enters its 22nd year and includes 130 performances across five stages, including shows by well-known bands such as Paradise Lost, Sepultura, Cannibal Corpse and more. The organisers invite you to "come and enjoy a great atmosphere, cheap Czech beer, tasty food, crazy fans and 100 bands from all over the world in four brutal days!"
Official Page: http://brutalassault.cz/en/
#8 Hip Hop Kemp, Hradec Králové, August 23 – August 26 – Hip Hop Kemp, the largest hip-hop festival in Central and Eastern Europe, celebrates its 17th anniversary in summer 2018. The festival includes 499+ artists on six stages, watched by over 20,000 fans. This festival has repeatedly been included in the 50 best festivals in the world by CNN. Hip Hop Kemp will close the summer season with a promised "feast of rap", as the organisers describe it, on August 23 – 26 in Hradec Králové.
Official Page: http://en.hiphopkemp.cz/
Get the news first! Subscribe to our daily newsletter here. Top stories of the day in your mailbox every morning.
https://www.brnodaily.com/2018/07/03/brno-urban-guide/video-the-best-music-festivals-in-the-czech-republic-summer-2018-whats-up-brno/
https://www.brnodaily.com/wp-content/uploads/2018/07/festival-1287720_960_720.jpg
https://www.brnodaily.com/wp-content/uploads/2018/07/festival-1287720_960_720-150x100.jpg
Art & Culture
BD Magazine
Brno Daily Recommends
Brno Urban Guide
Eating Out / Nightlife
What's Up Brno
Brno,Brno Urban Guide,Culture,Czech Republic,Eating Out / Night Life,Music,Things To Do in Brno
Euphoric festival goers describe them as Disneyworld for adults. Only instead of ice cream, there is beer, instead of the cave of wonders, there are loads of stages with your favourite music, and instead of Mickey & Minnie, there are bands like Sepultura, Helloween, and N.E.R.D. Photo credit: markusspiske//...
Berk Büyükbalcı
Berk
Büyükbalcı
berk_buyukbalci@hotmail.com
Author
Ahoj Brno, this is Berk from İstanbul, a light traveller of short distances and journalist who is possessed with curiosity about new places and cultures.
Brno Daily