New chipped ID cards available in CR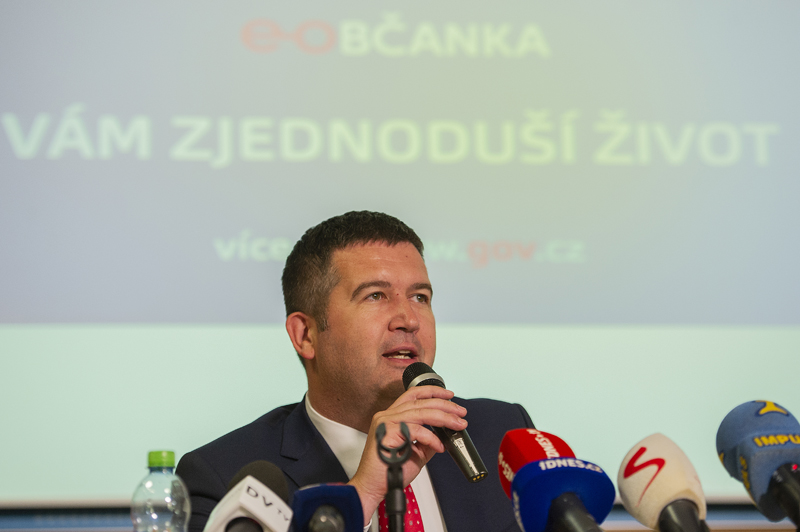 Brno citizens started picking up new ID cards, so-called "e-Občanky" last week, Czech Television reported. They have a contact chip, so the cards can be connected to a computer. Citizens with these cards will now be able to obtain documents online, such as certificates of indebtedness or criminal record checks. Photo: Minister of the Interior Jan Hamáček, source: MVCR
Brno, Jul 16 (BD) – "There are currently 7,722 public administration information systems in operation in the Czech Republic. If all of them shared services and data collected, it would save us all hours of transferring documents between offices and standing in queues, and both the state and the citizens would save considerable costs," said Interior Minister Jan Hamáček (ČSSD) in an official press release.
The new ID card can be issued within 24 hours for a fee of 1,000 crowns, or free of charge within the standard 30 days. In the first three days, 25,338 standard applications for electronic identity cards with a contact chip were received; as well as 483 with a 24-hour issue request and 1,975 with a five-day issue request, according to data from the Ministry of Interior,
To activate the chip, cardholders will need to enter a personal identification code (PIN analog) of 4-10 digits, and a deblocking personal code (similar to PUK). To use an "e-Občanka" online on the government's website (www.gov.cz) and access one of the 37 services currently available, people will have to buy a smart card reader, available in most electronics stores; the price of a reader starts at 190 crowns, according to Czech news website Eurozpravy.cz ("E-občanky jsou zatím na nic. Nový portál státní správy vázne"). In addition, users will have to download a special "e-Občanka" application.
Get the news first! Subscribe to our daily newsletter here. Top stories of the day in your mailbox every morning.
https://www.brnodaily.com/2018/07/16/breaking-news/new-chipped-id-cards-available-in-cr/
https://www.brnodaily.com/wp-content/uploads/2018/07/ViewImage.jpg
https://www.brnodaily.com/wp-content/uploads/2018/07/ViewImage-150x100.jpg
News - Archived
Politics
Brno,Czech Republic,News,Politics
Brno citizens started picking up new ID cards, so-called "e-Občanky" last week, Czech Television reported. They have a contact chip, so the cards can be connected to a computer. Citizens with these cards will now be able to obtain documents online, such as certificates of indebtedness or criminal record...
BD Staff
BD Staff
team@brnodaily.cz
Administrator
Brno Daily - English News and Events in Brno.
Brno Daily