Fifty Writers Rise to the BSSWC Challenge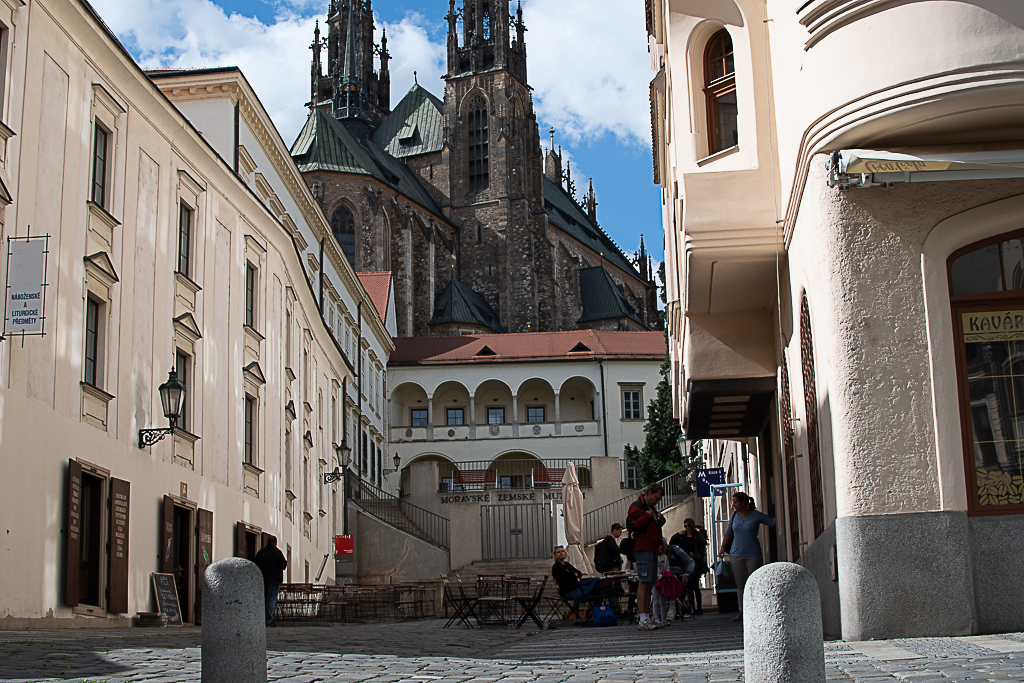 Photo credit: KK / Brno Daily.
A round-number 50 writers rose to the challenge of creating a narrative about Brno for the Fourth Annual Brno Short Story Writing Contest. Now it's for the judges to decide the winner.  
The deadline for entries was Sunday at midnight. The jury has four members. The top stories — 6,000kc to the winner, 3,000kc to second and 1,000 to third — will be announced in June.
The writers range from lifelong residents to short-term expats, from adolescents to seniors, from students to professionals, and from people who live in the center of the city to those who have moved far away. Nationalities from around the world are represented.
The topics are just as diverse and the genres include fairy tales, science fiction, fantasy, romance and fish-out-of-water humor.
The stories had to be in English, 2,500 words or less and include "Brno" in some meaningful way. Only one entry per person. The contest was free.
The 50 entries are listed below, with title and a short synopsis, in the order of submission (and unedited):
A Day Like Any Other
The life of the city goes about its usual business and so does one wailing, run-of-the-mill ambulance car. To its sole passenger, an anonymous young man, things may, however, look quite different.
The City of Musicians
A young ambitious man wants to change his life by creating music. He had a lot of experience until he found out what actually filled him.
The Life Saver Clock
My story includes the story about The Astronomical Clock of Brno. It informs the reader, the significance of that clock and how it tricked the Swedish soldiers.
Misty Treasure
The story which happened far in the abyss of time, when people tried to find an ancient treasure, buried under Brno. But it is not a fairy-tale that finishes luckily forever, decide for yourself if it is only a story.
Once Upon a Time in Brno
This tale recounts the discoveries of a young traveller in a strange but wonderful land.
New Quarter
In the future, Brno will have a new flawless quarter with lots of well-designed buildings that are in harmony with nature and happy inhabitants who love their homes. Or not?
Last Night in Brno
If she was to tell her story about the few months in Brno, she would tell about her last night. The beer, the dance, his flat, rainy streets and then the emptiness. That's all she would recall and all that would Brno mean for her.  
Station
Where is the mouse hole and who is the mouse? Surely there is more to life than scrabbling back and forth with a few stale crumbs in a dreary existence.
Coming Back, Where The Heart Was Left
Elen is coming back from Germany where she has been living and working to make a deal in the name of her company with the people she used to work with. But there is more than just memories of the place where she was working. 
Transformation of Reduta
The closer neighborhood was never known to us.
My Own Private Brno (The abridged tour)
Come and join the narrator on a tour of Brno that is unique and specific by being her personal walk down the memory lane, through the streets of this town.
Margo
Do you know who lived in Špilberk?
Rendez-vous with a Crocodile
On the way to meet her father in Brno, Martina will do an unexpected meeting, that will change her life forever.  
Sibling Rivalry
Living in the shadow of an older brother can seem daunting. Brno teaches the narrator the flip side of sibling rivalry.
Brünn / Brno
The story is about young woman living in Brünn in 1944. One day happens something mysterious.
Blondes or Brünn-ettes?
In the middle of an identity crisis, a new comer to Brno discovers a part of himself as he learns to look women in the eyes.
BRNQ
It takes a Japanese book and Leoš Janáček's ghost to remind a professional violinist in quarantine that Brno has not changed into someplace else.
Bridget and Amy
A girl named Amy is moving to a new home in Brno. Will she be able to find a friend there? 
The Saint John's Night in Brno
Dominik wanders around Brno centre as he was pushed out of his flat by a roommate, who celebrates first anniversary with unbearable girlfriend Gloria. By a coincidence it is not just an ordinary night, Dominik is about to experience a Saint John's night, during which is the curtain between living and dead thinnest. 
Wedding in the Subway
Construction of a magnificent subway has been started in Brno. For young lovers looking for an unconventional place for their wedding, this could be a great memory or a wedding story…
The Coffee Stand Incident
A decision to buy a morning coffee on Brno's main train station that day will change Linda's life.
Brno: The Unexpected Plot Twist in My Life
This story details the journey of the author: from dire first impressions of Brno in 2018 to a complete change of heart and leading a full and happy life here in 2020. Now Brno is home, thanks to one tour guide in particular…
Crocodile Pendant
A story written by a girl who randomly happened to travel in time and managed to get to know her past a little better.
Did Dandelions Grow Taller after Chernobyl?
Maggie had been quarantined just like the rest of us when she received a message that her mother was hospitalized.
Anna and Marta
In my story I wanted to show people's emotions when the Germans were expelled from Brno after the Second World War. 
Sisters in Brno
Two sisters from abroad agree to meet in Czech Republic on holiday. Things do not go according to plan, and they end up in Brno instead of Prague – will it be a good vacation?
"The Statue of Liberty Is Really Old" and Other Lies U.S. English Teachers Will Tell You
An American traveler explores multiple levels of national, ethnic, and cultural identity after moving to an "old" Czech town of 9,000, a large contrast from the "new" city of 9 million she hails from.
BEERNO
A conventional afternoon in unconventional times.
Like Marlenka
A story about a stranger who came to live in Brno between the normal days and the Corona Crisis. The character didn't like the people, but it changed, as the people became forbidden to her.
The City of Your Childhood
As a city dweller, you are tired of the rush, noise, and overcrowded streets. You need to not only to walk further from the city centre, but you also have to come back in time to find peace, and thus–you do.
Brno
An evening out drinking takes a rather strange course, when a young man tries to deal with his own feelings and mind. 
The Lesson
A newly arrived expat in Brno wanders down a city centre lane and discovers a tea shop. They hope to buy black tea so that they can enjoy a homely British cuppa, but the shopkeeper isn't going to let that happen until she's satisfied with their Czech.
Different Worlds
A lost American finds the city of Brno a lively place. But danger lurks underneath the surface. 
The Dream Becomes True in Brno
A child was dreaming of living in a multicultural city and finally the dream becomes true in "Brno".
In Search of the Brňáci
A quest to find the mysterious natives of Brno.
Letter to Brno
A tale of a city, the story of a friend.
Inglorious Corona
Aftermath of a deadly virus outbreak brings out the best and the worst in dystopian Brno residents.
Journey's End
A familiar journey through Brno, in unfamiliar circumstances. But when the journey has to end, how do we know, and what should we do?
The Dragon Slayer
Audrey, a history student doing a foreign exchange in Brno, sees a young man dressed in medieval armour on her way to class one day. The incident can't leave her mind, plaguing even her subconscious – will she figure out who the mystery man is?
Sky is Her Limit
A short story of an ordinary woman with an extraordinary life.
A Stroll Through the Streets of Brno
A man with an unknown past, caught up in the endless streets of a city too large and dark for him tries to escape its odd situations which await him at every corner. As the cruel discoveries pile up, then man gradually loses all thoughts of morality, life and hope.
Medical Attention
Peter waits by his two-year-old son's hospital bedside for the return of his wife Marta, returning from a conference in Rome.
The Thaw
A summer day at Obilní Trh is usually a pleasant experience, but not for Anna who has to deal with her intoxicated boyfriend. As her body goes through mixed sensations, the history of the relationship surfaces and she gets closer to the next step.
Incarnations
Returning to the city after two decades, a man wonders whether some places and people aren't best left in memories.
Absolute Eternal Truth
The story takes place in a fictitious (or is it?) reality of Brno during the 2020 Covid-19 pandemic and follows a young student who's making sense of what's going on.
Petrophagus Vulgaris Brunensis
This is one of very few proving narrations about Petrophagus Vulgaris Brunensis, known as Mokvaje, mysterious and ancient builders-destroyers of any kind of buildings, which presents and honours their hard work. Oh, and also about my first cobblestone-theft, which took place near the Red Church, one of the greatest momentous buildings of Brno. 
Alex
Behind every name, there is a unique and complex tale, with society looming over it, saturating it, overwhelming it. My short story explores how names are embodied, how names are flesh and blood buffeted by social norms. 
Indiana Jones and the Lost Crystal Ball
A story about an internal search for the meaning of life, found it meanwhile on a trip to Palermo, that unexpectedly leads to Brno the most famous treasure catcher: Indiana Jones.
Just Some Love Story
"Prague made us return to this country, and Brno made us stayed."
2070
A simple day of a simple Brno accountant, in 2070.
* * *
The contest jury includes a cross-section of local cultural icons and writing enthusiasts:
– Don Sparling, a co-founder of the Brno Expat Centre and a longtime leader in the local expat and Masaryk University communities;  
– Tomáš Kačer, a teacher in the Department of English and American Studies at MU and a translator;  
– Anna Formánková, a translator and a book editor at MOBA Publishing House; and  
– Theo Singleton, a member of the Brno Writers Group who finished second in this contest in 2017.  
The jury has been instructed that the contest is focused on creating a story that includes the theme "Brno" in some significant way. The story is the most important aspect, including writing, originality, character development, and plot development.
Brno Daily and the Brno Expat Centre are both media sponsors of the Brno Short Story Writing Contest.
Information about the contest will be posted on the contest website at https://brnowriters.wordpress.com/.
https://www.brnodaily.com/2020/05/19/culture/fifty-writers-rise-to-the-bsswc-challenge/
https://www.brnodaily.com/wp-content/uploads/2018/10/September-Streets-of-Brno-for-Brno-Daily-55-1024x683.jpg
https://www.brnodaily.com/wp-content/uploads/2018/10/September-Streets-of-Brno-for-Brno-Daily-55-150x100.jpg
Art & Culture
Brno,Brno Expats,Culture,English-friendly
Photo credit: KK / Brno Daily. A round-number 50 writers rose to the challenge of creating a narrative about Brno for the Fourth Annual Brno Short Story Writing Contest. Now it's for the judges to decide the winner.   The deadline for entries was Sunday at midnight. The jury has four members. The top stories — 6,000kc to the winner, 3,000kc to second...
Bruno Zalubil
Bruno
Zalubil
bzalubil@hotmail.com
Author
A connoisseur of the unpredictable and unscripted drama of sports.
Brno Daily